Take Home Tuesday
It's Take Home Tuesday! Keep an eye out for the following releases when you head to your favorite bookstore. Have a great day everyone!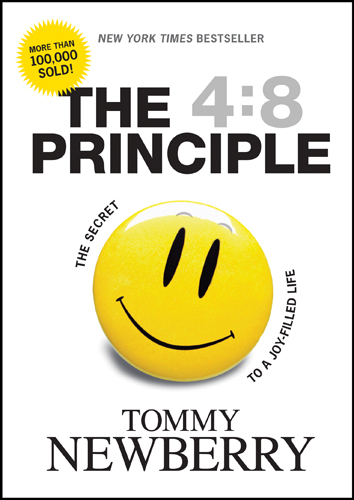 What are you thinking about?
Research indicates that the average person thinks approximately 50,000 thoughts per day. Each thought moves you either toward your God-given potential or away.
Unfortunately, we live in a society bent on nursing old wounds and highlighting what is wrong with just about everything. As a result, we have grown accustomed to viewing the world, our lives, and ourselves through a lens of negativity—and that negativity stands in direct contrast to the passionate, purpose-filled people God wants us to be.
In Philippians 4:8, the apostle Paul challenges us to seek out and dwell on the positives in our lives. When used as a filter, this New Testament verse is the true secret to vibrant health, satisfying relationships, and lasting fulfillment.
Whether you are at a low point or a high point in your life, The 4:8 Principle can help you experience joy by design—God's design. You'll quickly discover life as it was meant to be!
Unleash the power of the 4:8 Principle today!
It really is the secret to a joy-filled life!
Explore new heights of sensuality in this return to the world of the Psy—where two people who know evil intimately must unlock the good within their icy hearts…
As an Arrow, an elite soldier in the Psy Council ranks, Judd Lauren was forced to do terrible things in the name of his people. Now a defector, his dark abilities have made him the most deadly of assassins—cold, pitiless, unfeeling. Until he meets Brenna…
Brenna Shane Kincaid was an innocent before she was abducted—and had her mind violated—by a serial killer. Her sense of evil runs so deep, she fears she could become a killer herself. Then the first dead body is found, victim of a familiar madness. Judd is her only hope, yet her sensual changeling side rebels against the inhuman chill of his personality, even as desire explodes between them. Shocking and raw, their passion is a danger that threatens not only their hearts, but their very lives…
FBI Criminologist Patrick Bowers has never met a man he couldn't catch... until now. In the remote mountains of North Carolina a killer is on the loose. His desire is dark. His motive is elusive. His knowledge--deadly.

And as Special Agent Bowers tries to untangle the clues to the bizarre slayings, he's drawn deeper into the killer's deadly game. It's a bloody battle of wits. But who will win? From critically acclaimed author Steven James comes a spine-tingling thriller full of mind-bending twists and heart-pounding suspense. The first book in his new series, featuring criminologist Patrick Bowers, The Pawn will grab you by the throat and keep you on the edge of your seat until the very last page. Explore the twisted mind of the Illusionist… and uncover the fate of his pawn. The game begins now.
EXCLUSIVE featuring Jaci Burton
Three stories that make the most forbidden fantasies come true.
Welcome to the club….
Three masters of erotic romance extend a private invitation to the after-hours club of your dreams.
The cost: your inhibitions…
Jaci Burton's Wild Nights …
Grace Wilde owns a swingers club—but rarely indulges in the fun. It takes a newcomer like Mike to sway her. Pure country. All animal. And up for a good time. But can two people who thrive on independence find a compromise between absolute sexual freedom and total commitment?
Exclusive
Some fantasies aren't for everyone.
What woman doesn't love cute shoes? Rhonda Rhea's not afraid to admit her obsession with them—or to use this "shallow" addiction as a basis for a book! High Heels in High Places is a biblical journey for women who want to go deeper in their spiritual lives, but also want fall-off-your-high-heels laughter along the way. Using Colossians 1:9-12 as a springboard, Rhonda takes women on a fun adventure infused with practical spiritual truth about what it means to walk worthy before God. This unique and hilarious exploration is perfect for the "shoe overachiever" in all of us. It makes a great gift for the woman who has it all (and just doesn't have enough closet space to store it), or can be an enlightening small group resource.
THE MORGUE THE MERRIER
Featuring
Karen Kelley
Spirits present. Love required. Mistletoe optional…
Take one town devoted to Christmas. Add a mysterious morgue-turned-hotel, a wonderland snowstorm, six star-crossed lovers, determined spirits, and three of today's hottest romance authors, and you've got a sizzling treasury of hot and haunted Christmas tales…
In Christmastown it's always a special time of year. Just ask Annette. While visiting for the holidays, she discovers her Big Mistake from high school is in town and hotter than ever. A few Christmas spirits later, she finds out what she's been missing all these years. Or Sydney, the songwriter on sabbatical—until a ghostly Elvis impersonator gives her a hunk, a hunk of Christmas cheer. And is it the weather or a meddling ghost that forces Holly's ex-husband to land his plane right down in the middle of a steamy, delicious reunion?
Romantic, erotic, funny, and spirited, time to unwrap your gifts…
Includes Special Holiday Bonus Story!