Take Home Tuesday (and Romantic Times TopPicks!)
We are so very excited to share with you three of our February releases which were also
Romantic Times TopPicks
!!
He's a Harley-riding ex-thief...she's a gun-toting ex-socialite. Together they'll take the ride of a lifetime in this erotic romance from "an undoubted master."*

Mac Canfield was the last man Lily West expected to see again, never mind aim her gun at. But there he was, the bad boy who'd broken her heart years ago-still a thief, hijacking a priceless artifact-and it was all she could do to push aside the memories of how it felt to have his perfectly chiseled body next to hers.

Mac was no less shocked to see the beautiful girl next-door again, threatening to shoot him. Little did she know she was blowing his cover. He had to get her out of harm's way without succumbing to his desire to take her on a hot trip down memory lane.

But Lily has no intention of going anywhere with Mac, which means he'll have to resort to kidnapping. Unless she agrees to let him take her for the kind of ride destined to drive them both unbelievably wild.
NO HIDING.
Lana Hancock knows all about danger--and betrayal. Eighteen months ago, she was captured by a terrorist group known as the Swarm while one of its members, a rugged man with sinfully dark eyes, did nothing to help her. Now when she's freed and desperate to put it all behind her, the unthinkable happens. The Swarm is targeting Lana once again and the man who stood silently by has become her protector. But can she trust him?
NO ESCAPE.
Delta Force operative Caleb Stone will never forget the hatred shining in Lana's eyes. Ordered to take down the Swarm by infiltrating its ranks, Caleb couldn't blow his cover to save her--no matter how much it haunted him. Now, gifted with a second chance, he vows to move heaven and earth to protect her...and fulfill her every desire. But the Swarm has reorganized. It's more powerful than ever and hell-bent on revenge...
NO CONTROL.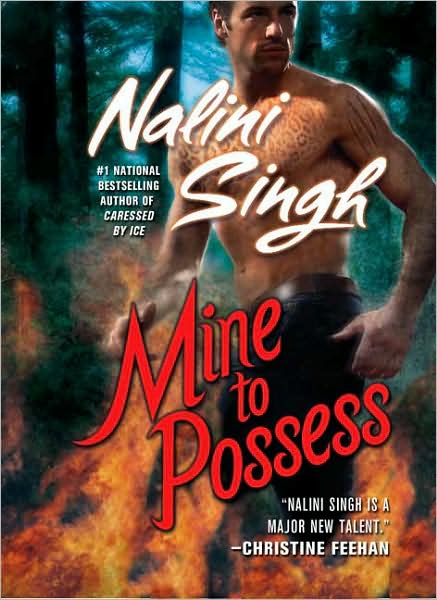 Nalini Singh pulls away another dark layer of sheer desire, revealing passions unknown, in her latest novel about the world of the Psy. A ghost returns from a leopard changeling's past, making him question everything—even his base animal instincts…

Clay Bennett is a powerful DarkRiver sentinel, but he grew up in the slums with his human mother, never knowing his changeling father. As a young boy without the bonds of Pack, he tried to stifle his animal nature. He failed...and committed the most extreme act of violence, killing a man and losing his best friend, Talin, in the bloody aftermath. Everything good in him died the day he was told that she, too, was dead.

Talin McKade barely survived a childhood drenched in bloodshed and terror. Now a new nightmare is stalking her life--the street children she works to protect are disappearing and turning up dead. Determined to keep them safe, she unlocks the darkest secret in her heart and returns to ask the help of the strongest man she knows...

Clay lost Talin once. He will not let her go again, his hunger to possess her, a clawing need born of the leopard within. As they race to save the innocent, Clay and Talin must face the violent truths of their past...or lose everything that ever mattered.